We are at the end of 2020 and once again Instagram continues to grow exponentially, being the leading online platform for free marketing. And if your company is not taking advantage of these low-cost leads, you are missing your share of this juicy pie.
10 WAYS TO YOUR BUSINESS ACCOUNT ON INSTAGRAM
1. Write the perfect bio
Before you invest time and money on gaining an audience, take 5 minutes to write a caption. Think of this as your "homepage" on your account, and you have 5 seconds to capture your reader's attention. Sound harsh? We have doubled an account's "new follower" just through optimizing this.
Your bio is your brand identity and must relate to your target audience. After all, a balloon emoji looks great on an Instagram page promoting cakes but is unprofessional for a bank.
Luckily, you don't have to reinvent the wheel. Search your niche and see what the "popular" accounts are using. Please do not steal the bio but use the foundation as a guide to steer you in the right direction.
Providing a link at the end of your description is perfectly fine, in fact we encourage it. Linking to your home page is ok, but why not push for a sale? When you post a picture on Instagram you cannot provide a link in the photo's description. A method we recommend is posting a picture with your product and captioning it "link in bio". But make sure your blog bio is linking this product!
2. Create a content calendar
A content calendar is a road map to running a successful Instagram. This is a plan that includes photos, descriptions, times, and dates that you will post on your profile. Not only does this help plan your content, but it's exceptionally productive if you're working amongst a team. If you would like a free content calendar, email me at marketing@volume99.com and we will send you one at no cost.
3. Descriptions are the bread on the butter
A picture without a description cuts engagement by half. The length of the description is not important, focus on making writing content that is engaging and relatable to your audience. Don't be afraid of posting emojis, Emojifinder is a free tool to make this process more efficient.
Instagram does not allow links in the description of posts. A workaround is typing "link in bio" but remember to add the link in the account's bio. Only include one link in your bio otherwise it looks unprofessional. Once you have a new post, delete the "link in bio" from the previous post, otherwise, shoppers will be looking for a link that no longer exists.
4. Hashtags don't have to be complicated
Hashtags should relate to your company and be proportional with your following.
Relating to your company is the easy part, research what competitors are using and add your own twist. Adding a location to the hashtag can be beneficial to attract the right customers. For example, a pet shop could include #adorablekittensUK or #adorablekittensUSA
Getting hashtags to rank requires its own post, click here for a comprehensive guide. In short, you need a certain number of likes to rank on a hashtag. The more popular the hashtag, the more likes required. Therefore, if your posts attract large numbers of likes, pursue popular hashtags. If your posts attract a low number of likes, pursue less popular hashtags.
A quick tip: Include several lines of dots between the description and hashtags for cleaner aesthetics.
5. Post pictures that connect with your audience.
The difference between a good and bad Instagram account is a consistent theme. Think of it like this, if your focus is on food, DO NOT post anything political – you just lost half your audience. While this example is simplistic, the idea can be expanded on. Your audience has followed your page because they like what you post. If your imagery has delicious food with a white background, keep it this way. For a comprehensive guide to the content, you should be posting, click here.
6. Schedule your posts
If you take one piece of advice from this article, SCHEDULE. Scheduling is a process of adding the photo, description, hashtags, and date ahead of time, so they automatically post at a specific date and time. It takes a few hours to set this up for an entire month then you are done! No more waiting until 2pm to post at the optimal times, simply set it up and it's done!
If you are price conscious, Creator Studio is your go-to – a free tool made by Facebook
If you are less frugal, Hootsuite is your go-to – a paid tool that gives more features and analytics.
Spend a few hours and schedule every post so it's automated. Not only does this save time, but it keeps the timing consistent – something that you can take advantage of if you're analysing when your followers are most active.
7. Interacting with strangers is just interacting with future customers
People can only follow your account if they are aware you exist. If you follow another user on Instagram, chances are they will look at your account. Do this 5 times and you'll likely gain a new follower. As well as following users, liking photos, and commenting on posts work equally well.
You should interact with accounts that are already interested in your audience. If you are selling a Keto-diet plan, look for accounts that already interact with other keto accounts. Focus on accounts that have a higher number of accounts followed, than accounts that follow them – these users have a higher chance of converting to your audience.
Do not ask accounts to follow you, it's cheap and if you post good content, they will follow you anyway. Do not comment something generic, personalise it.
Due to Instagram's anti-bot system, you can only complete so many actions per hour otherwise you're at risk of a shadow banned. For a new account, we recommend 10 actions per hour. For an account older than 3 months, we recommend 20 actions per hour.
Due to the tedious nature of this method, it's best used with newer accounts to obtain the initial following
8. Cross promote pages equals free growth
Cross promoting is the idea of you giving another Instagram account a shoutout in exchange for them to shoutout your Instagram account. It takes less than an hour to find accounts that have a similar product and a similar following to your account, but yields great results and is absolutely free. Here is an example of a message to send.
9. Reach out to Influencers
An influencer is a user with a large audience. They often take payment to showcase a product or service for a business. As a general rule, the larger the following of the influencer, the higher the price. In saying this, shop around as some influencers offer better rates. Influencers with a smaller following are often happy to take payment in the form of keeping your product, for example, they may showcase your clothes with the payment being they get to keep these clothes for free.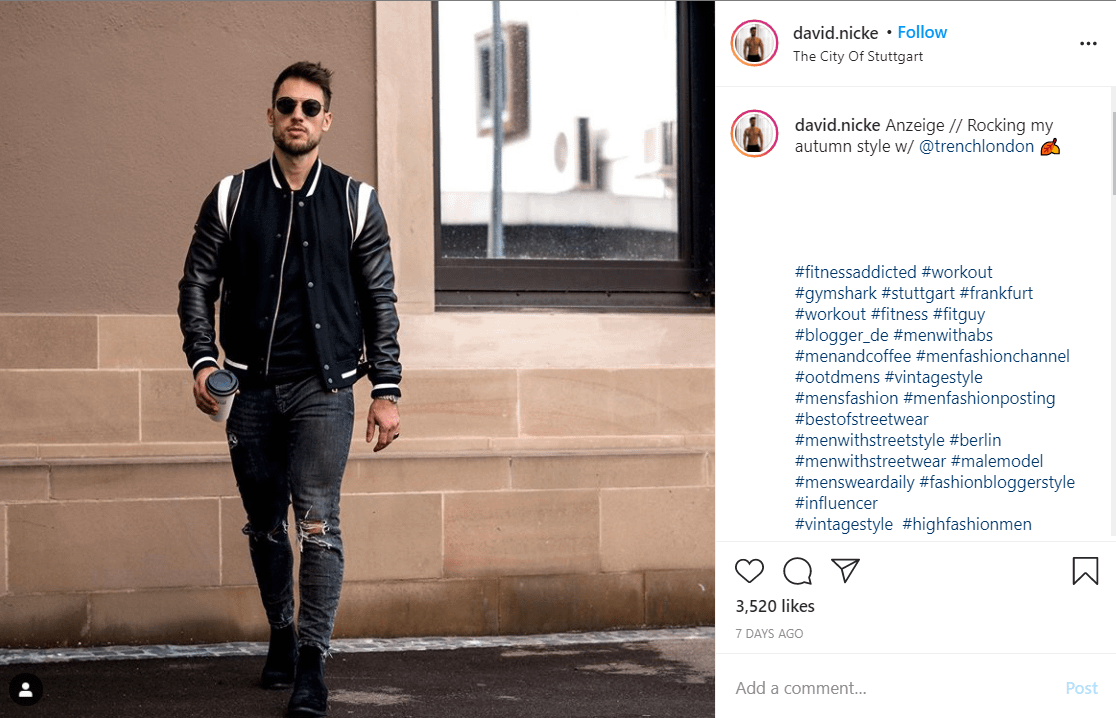 When finding an Influencer, it's important to ensure they relate to your industry. It's also important to check that the Instagram account has REAL followers. Click here for a guide on how to spot fake followers.
10. Avoid Fake Followers
An account with fake followers sticks out like a sore thumb, you are not fooling the tech savvy Gen Z. And when they notice this, why would anyone trust a company using deceptive marketing techniques? The backlash outweighs the perks of organic followers.
Instagram uses engagement to determine which posts go to the start of a users' newsfeed. So you're now getting less traction from real Instagram accounts. Furthermore, it makes it hard to measure metrics, so you're making it much trickier to take an analytical approach to your Instagram page.
Are you happy with the progress on your Instagram Account?
We want to provide every entrepreneur with a tool to advertise their company without the price tag. However, due to the time constraints, we understand that it is often advantageous to let the professionals handle things. If this may be a better fit to your needs, book a free consultation.